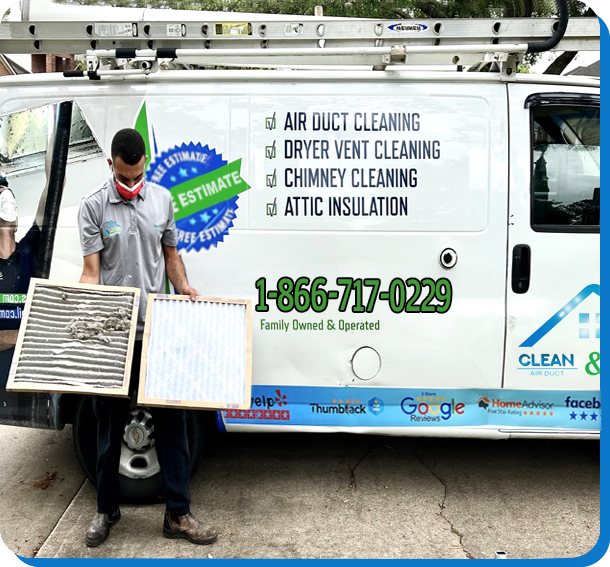 Uncovering the Truth and Benefits of Air Duct Cleaning Services
Maintaining a clean and healthy home environment goes beyond surface cleaning. Often overlooked, the cleanliness of your HVAC system and air ducts plays a crucial role in ensuring optimal indoor air quality. At Clean & Green Air Duct Cleaning, we understand the significance of professionally cleaned HVAC systems and air ducts. In this blog post, we'll explore the benefits of these top-notch services and why they are essential for a clean and green living space.
Improved Indoor Air Quality Starts with HVAC Cleaning:
Your HVAC system acts as the lungs of your home, circulating conditioned air throughout the ducts and vents. Over time, dust, dirt, allergens, and other contaminants can build up in the system, compromising indoor air quality. Through professional HVAC cleaning, we remove the buildup of debris, ensuring cleaner and healthier air for you and your family.
Enhancing Efficiency with Air Duct Cleaning:
Air duct cleaning is a vital part of HVAC maintenance. When ducts and vents become clogged with dirt and debris, airflow is restricted, forcing your HVAC system to work harder. This not only reduces efficiency but also increases energy consumption and utility costs. Our air duct cleaning service remove obstructions, allowing for proper airflow and maximizing the efficiency of your HVAC system.
Combatting Mold with Mold Cleaning Services:
Mold growth within the HVAC system can pose significant health risks and affect indoor air quality. Our comprehensive mold cleaning services target mold colonies within the ductwork, removing harmful spores and preventing further issues. By addressing mold problems promptly, we protect your home and ensure a healthy living environment.
Extending the Lifespan of Your HVAC System:
Regular HVAC cleaning and air duct cleaning services can help prolong the lifespan of your HVAC system. By removing built-up debris, we reduce strain on the components, preventing premature wear and tear. This translates to fewer repairs, improved system longevity, and cost savings in the long run.
Trust the Experts for Professional Duct Cleaning Services:
When it comes to HVAC cleaning and air duct cleaning, it's important to rely on professional services like Clean & Green Air Duct Cleaning. Our team of experienced technicians has the expertise, specialized tools, and industry knowledge to deliver thorough and effective cleaning. With careful attention to detail, we ensure that every part of your ductwork is cleaned diligently, leaving you with peace of mind and exceptional results.
Is Air Duct Cleaning Worth It?
Don't underestimate the impact of HVAC cleaning and air duct cleaning services on your home's indoor air quality and overall well-being. At Clean & Green Air Duct Cleaning, we prioritize the health and comfort of our clients. Through our professional services, including duct cleaning, mold cleaning, and HVAC maintenance, we help you create a clean and green living space.
Trust our expertise to improve indoor air quality, enhance energy efficiency, and extend the lifespan of your HVAC system. Contact Clean & Green Air Duct Cleaning today to experience the benefits of our comprehensive services.
Don't wait any longer! Contact Clean & Green Air Duct Cleaning today at 866-717-0229 if you need HVAC duct and vent cleaning services.