Your Trusted

Certified Air Duct Cleaning Services

Professionals
We're committed to providing you with the top-notch air duct cleaning service near you. As a certified and insured company, we understand the importance of maintaining healthy indoor air quality.
The team of highly trained technicians possesses the expertise required to clean ducts, ensuring that you breathe only the cleanest and freshest air. We use advanced tools and methods, making us a top choice near you.
Our certification underscores our dedication to providing top-notch cleaning services. We are here to assist with all your HVAC duct and vent cleaning needs.
Don't wait any longer, improve your indoor air quality and enjoy a healthier home environment. Contact Clean & Green Air today and schedule your service, Our team of experts is here to assist you.
Do you have any questions?
This is How We

Clean Air Ducts!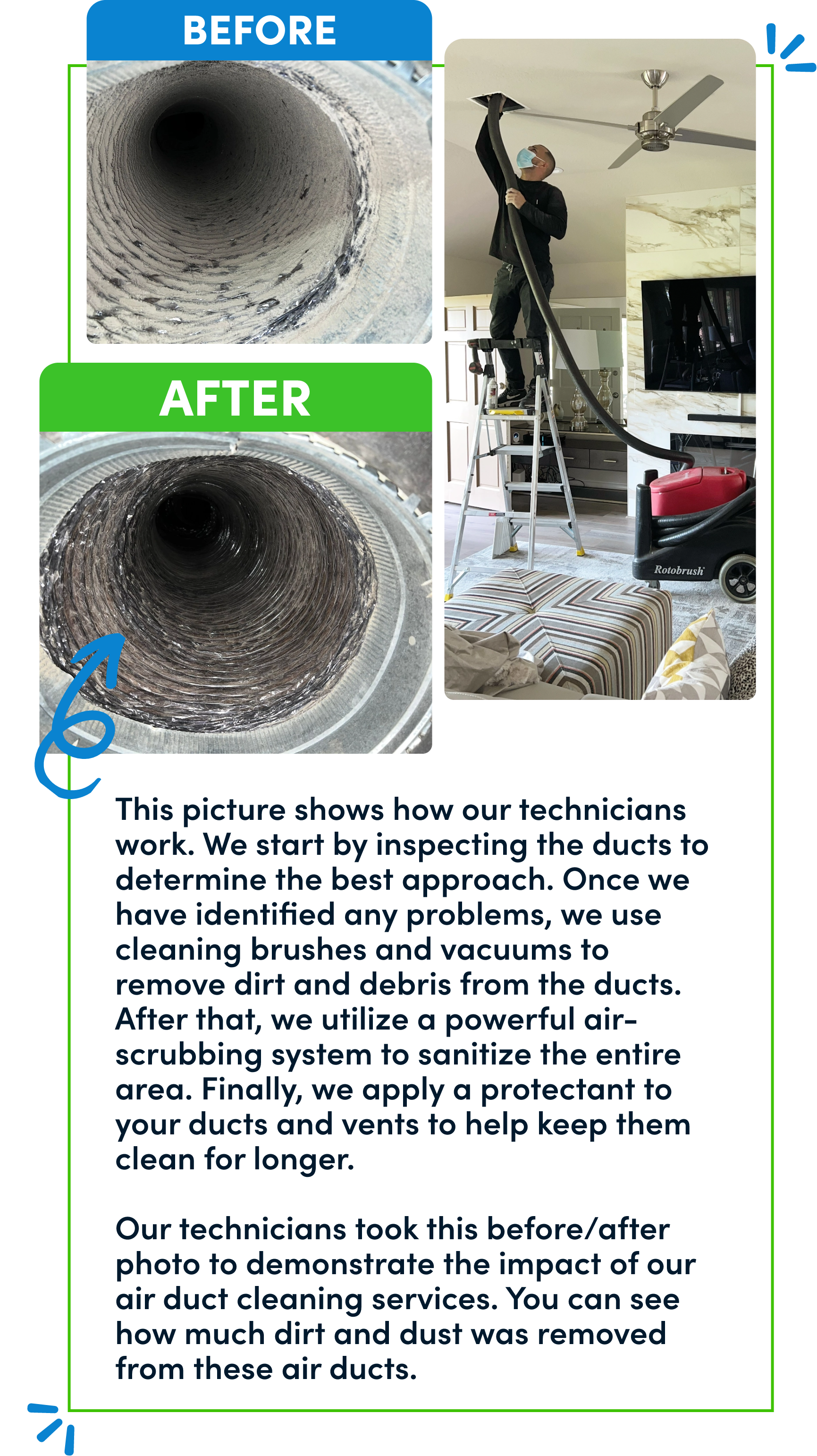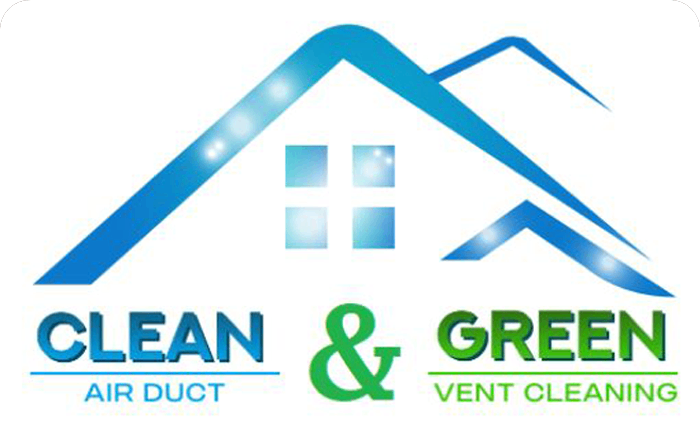 Exciting News For New Customers!
We're excited to offer you $50 off your first purchase with us on any Air Duct or Dryer Vent Cleaning Service. To redeem this offer, simply complete your online booking, call, or contact us.
*Coupons & special offers cannot be combined with other offers. Valid toward standard pricing only. Limit one offer per household.
Please fill out this brief form and we'll contact you shortly.
Learn How Much

Air Duct Cleaning Costs and the Process
The cost for maintenance air duct cleaning service is $129 per AC system. This service process is done from the main duct with negative machine pressure to suck all the loose dust from the main ducts connected to your HVAC system.
This includes cleaning up to 15 supply air ducts with negative machine pressure, and 2 main return ducts with a brush. The service also includes a Free Checkup, Free camera inspection, and Free organic deodorizer.
The deep cleaning process starting at $45, is done from each duct individually and is more elaborate and designed to remove particles or other harmful elements from the air ducts.
Air duct deep cleaning costs vary from $45 to $85 per duct, depending on how big and dirty the duct is. For the deep cleaning, we use a Rotobrush machine that connects to each vent individually and cleans up to 25ft into the system.
This extensive service involves removing debris, dust, mold, and allergens using cutting-edge equipment and expert techniques.
Additional Cleaning Solutions We Offer
Don't put up with poor air quality and inefficient operation of your air duct system!
Contact Clean &

Green Air Today to Improve Your Indoor Air Quality!
Residential Duct Cleaning Services
We understand the importance of clean air ducts in your home. Over time, dust, dirt, mold, and contaminants can accumulate, impacting your indoor air quality.
Our experienced team, equipped with specialized tools, ensures a thorough cleaning process that eliminates these pollutants. What sets us apart is our commitment to eco-friendly and green practices, using products safe for your family.
Improving Your Home Air Quality
By choosing Clean & Green Air, you prioritize a healthier living space. Schedule an appointment with us to benefit from top-notch residential HVAC duct cleaning services. Breathe easier and enjoy a clean, safe, and healthy home environment, knowing that your air ducts are in expert hands.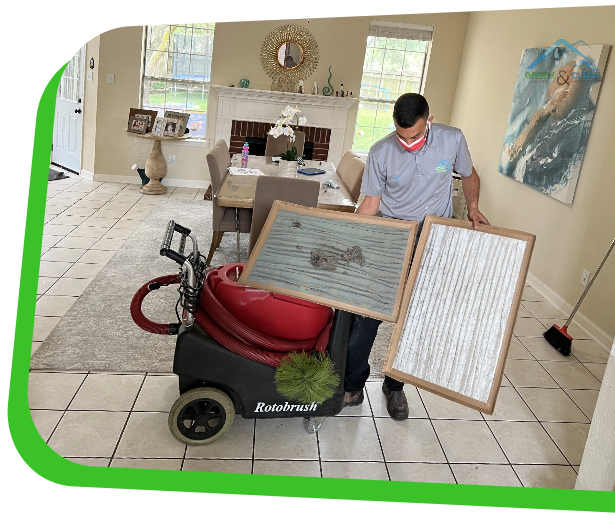 Why is it Important to Get Your Air Ducts Cleaned?
Duct cleaning services play a key role in keeping indoor air healthy. They focus on thoroughly cleaning air duct systems, including the ducts and vents. This service process rewove dust and allergens that build up over time. If not cleaned regularly, these ducts can spread these particles in your home, making allergies and breathing problems worse.
Benefits of Cleaning Your Air Ducts
Having your air ducts cleaned professionally helps the air quality and makes sure your heating and cooling system runs well. It reduce the energy use and helps your HVAC unit last longer. When you clean your ducts, you get rid of bad smells and dirty conditions, making your living space feel and smell cleaner and fresher.
When Should You Schedule Air Duct Maintenance?
Experts recommend duct cleaning every 1 to 5 years. Over time, ducts accumulate dust, dirt, mold, mildew, and bacteria. Without cleaning, these particles circulate, impacting your family's air quality.
Signs You Need Air Duct Cleaners:
Maintaining clean air ducts is vital for the health of your indoor environment. Air ducts can collect harmful substances like dust, pollen, and mold. This can affect the air quality and cause health issues.
To keep your home's air quality good, you need to know when your ducts need professional cleaning.
Here are some key indicators:
Visible Dust Build-Up: If you can see dust and debris around your air vents or you notice a layer of dirt within the ducts, it's time to call in the experts.
Reduced Air Flow: If air isn't circulating smoothly through your vents, it might indicate a clog in the ducts that requires attention.
Mold Presence: Any signs of mold around or inside the air ducts pose a serious health risk and require immediate attention.
Persistent Bad Odors: If unpleasant smells are emanating from your vents, it could be due to mold growth or a buildup of bacteria and other odor-causing particles.
Increased Energy Bills: If your HVAC system is working harder due to clogged air ducts, you may notice a spike in your energy costs.
Worsening Allergy Symptoms: A rise in allergy symptoms could indicate that your HVAC system is distributing allergens and irritants.
If you notice any of these signs, it's advisable to consult with a reputable duct cleaning services to assess and clean your ductwork enhancing your indoor air quality and potentially reducing your energy expenses.
Don't wait any longer!
Contact Clean & Green Air today at 866-717-0229 if you need duct and vent cleaning in your area!
Frequently Asked Questions
How often should I get my air ducts cleaned?
Generally, it's recommended that you get your air ducts cleaned every 1-5 years. However, if you have pets or smoke in the house, it may be beneficial to do it more often.
What type of cleaning solutions are used for duct cleaning?
At Clean & Green Air Duct Cleaning, we use eco-friendly and green cleaning solutions that won't harm your family or pets.
What if I don't clean my air ducts?
If you don't clean your air ducts, dirt, dust, and other contaminants can build up, leading to poor indoor air quality. This can lead to respiratory problems and other health issues.
Is air duct cleaning really worth it?
Yes, the duct cleaning services can be worth it for several reasons:
The cleaning removes dust, allergens, and contaminants, leading to cleaner and healthier air.
Clean ducts and vents allow for better airflow, reducing strain on your HVAC system and potentially lowering energy costs.
Clean ducts can extend HVAC system lifespan, prevent repairs, and reduce strain on components, saving you money.
Clean your ducts and vents if you have mold, pests, or too much dust in them.
Hiring a reputable professional ensures a thorough and effective cleaning process.
Consider your specific circumstances and consult professionals to determine if duct cleaning services is necessary for your home.
How long does it take to clean air ducts?
It depends on their size and condition. However, if you hire experts in the area of air ducts cleaning it won't take a lot of time. Generally, a professional air duct company can take a few hours to several days to complete the job.